CHANCE Newswire
22 March 2017


Climate Breaks Multiple Records in 2016, with Global Impacts
The year 2016 made history, with a record global temperature, exceptionally low sea ice, and unabated sea level rise and ocean heat, according to the World Meteorological Organization (WMO). Extreme weather and climate conditions have continued into 2017.
Read WHO Press Release »
22 March 2017


WMO Verifies Highest Temperatures for Antarctic Region
A World Meteorological Organization committee of experts has announced new records for the highest temperatures recorded in the Antarctic Region as part of continuing efforts to expand a database of extreme weather and climate conditions throughout the world.
Read WHO Press Release »
22 March 2017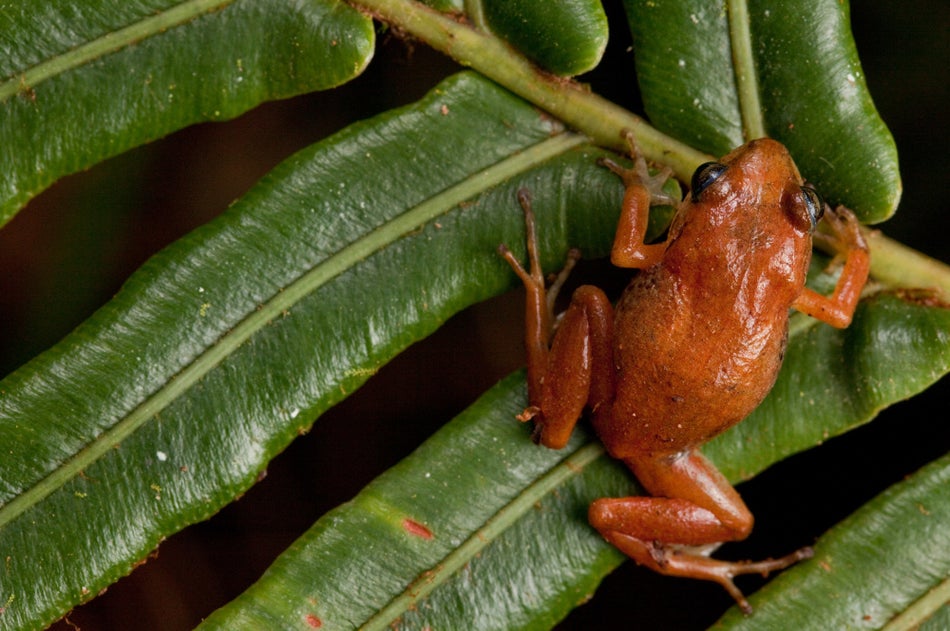 U.N. Expert: Biodiversity is Essential To Human Rights
For the first time, a United Nations report has recognized biodiversity and healthy ecosystems as essential to human rights. The report, authored by U.N. Special Rapporteur John Knox, a human rights expert and professor of international law at Wake Forest University, comes amid a biodiversity crisis that many scientists have pegged as the beginning of Earth's sixth mass extinction.
Read article »
Field Courses

Costa Rica 2017 Field Course

May 19-28, 2017
The Conservation and Sustainability of the Tropical Rainforest with a Field Practicum in Costa Rica program promises both a Course-based Undergraduate Research Experience (CURE) in ecology and a Service Learning experience in conservation.
Applications are no longer being accepted.
Cuba 2017 Field Course

July 7-15, 2017
Exciting news! With the changing nature of the US travel restrictions, we ARE NOW ABLE to visit Cuba this summer, July 7-15, 2017. We are generating the new itinerary and will quickly make the information available.
This CHANCE field program, Environmental Protection, Conservation, and the Sustainability of Cuban Ecosystems with a Field Practicum in Cuba, is an immersive research and conservation journey in western Cuba. It is comprised of online education and an international field course. Participants will research the biodiversity of both terrestrial and marine protected habitats, the exploitation of environmental resources, and the policies and practices needed to enhance both Cuba's current and future needs to sustain its natural ecosystems. The conservation efforts for this session include working in a sea turtle rookery.
Application deadline: April 10, 2017.

Australia 2018 Field Course

Summer 2018
Our first international field course partnership with James Cook University is titled: Conservation Biology and Global Citizenship - A Field Course in Select Natural World Heritage Sites of Australia. Field course website will be available end of 2017. Thank you for your patience while we coordinate our itinerary with our partners!
Featured Sponsor
CHANCE would like to recognize ATAS International Inc. for its support and commitment to the environment.
ATAS International, Inc. is a leading manufacturer of metal roofing, metal wall and ceiling panels, and sustainable building envelope technology. A family owned business for three generations, ATAS is proud of its green initiatives to bring the sustainability consciousness to all levels of operation.
During day-to-day operations, ATAS looks after the environment by producing less waste, optimizing materials, using energy-efficient equipment, and manufacturing sustainable construction products. Their green initiative efforts include reusing or repurposing cardboard boxes, "scrap" metal, skids, and fiber cores; donating scrap wood to the community; and, donating surplus product to worthy causes. Of course, all unusable metal is recycled. Motion sensors and improved lighting have been incorporated into all of the manufacturing facilities to make the buildings brighter and more energy efficient. Styrofoam products are not allowed and everything that can be recycled is. ATAS also believes in limiting paper waste; customers can access all technical and product information on the corporate website, www.atas.com. Any printed brochures are created on FSC-certified paper.
As a manufacturer of sustainable products—a transpired solar air heating system called InSpire and a building integrated photovoltaic roof called ATA-Solar—ATAS continues to strive for improved sustainability and energy efficiency.
CHANCE thanks ATAS for its recent donation to our Field Course Fund and General Fund. Their donation helped defray the cost for eight students to travel to China to participate in the 2015 CHANCE China program – China's Water Realities and Sustainable Solutions.
Their donation also assisted in the filming of a documentary on CHANCE's good work in China to study the pollution of the Yangtze watershed and promote world-wide conservation efforts. A link to its preview: https://vimeo.com/171162365. By year's end, the full documentary will be released and this company will be listed as a top sponsor.
Donate »
Featured Video
February 2017
The Gardens of the Queen
60 Minutes - Take this underwater adventure off the Cuban coast to one of the world's most pristine and vibrant coral reefs. Scientists estimate that 25 percent of the world's reefs have died off and much of what's left is at risk. Join the 2017 CHANCE Cuba program to explore, research, and define sustainable answers to conserving our ocean's biodiversity.
Other CHANCE featured videos »
CHANCE Fellows
28 February 2017

From Bluebirds to Snails, She's a Conservationist!
CHANCE 2016 Fellow, Rebecca Luft, is majoring in Biology, with a minor in Environmental Studies at Penn State Altoona. She is an avid conservationist whose work in conservation is exemplar and heartfelt. She is a volunteer at Canoe Creek State Park, Hollidaysburg, PA, where she participates in their bluebird citizen science project by monitoring the bluebird boxes (numbers of birds) within the park. She is also working on a research project under the direction of Dr. Edward Levri, Professor of Biology, Penn State Altoona with different genotypes of the invasive New Zealand mud snail to better understand their predator avoidance behaviors and population dynamics in local PA streams. She has presented her snail research at the 2016 Pennsylvania Academy of Science meeting and Penn State Altoona's Undergraduate Research and Creative Activities Fair, and will be doing so again in 2017. Let's hear it for Rebecca!!
Resources For Educators
15 March 2017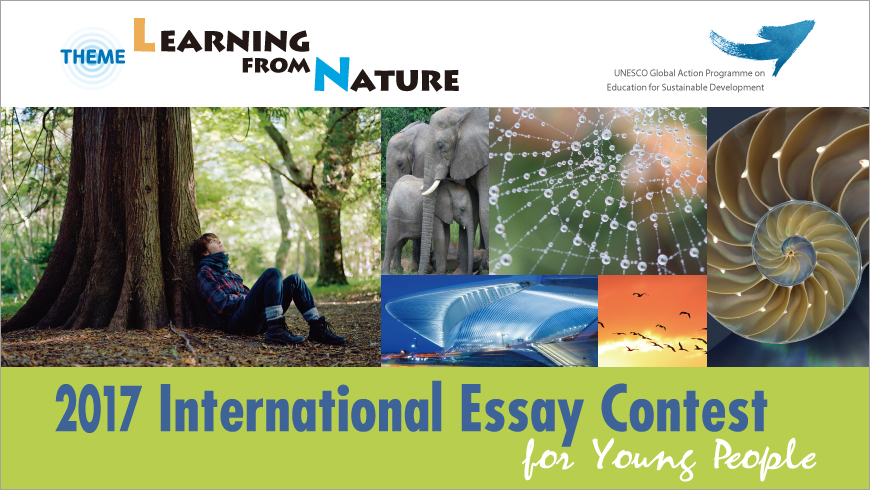 International Essay Contest for Young People
This annual essay contest is organized in an effort to harness the energy, creativity and initiative of the world's youth in promoting a culture of peace and sustainable development. It also aims to inspire society to learn from the young minds and to think about how each of us can make a difference in the world. * This program is sponsored by the UNESCO Global Action Programme (GAP) on Education for Sustainable Development (ESD) and organized by the Goi Peace Foundation.
THEME:"Learning from Nature" - Modern civilization has developed through controlling nature and exploiting its resources. At the same time, we human beings are part of the natural world, and nature has many things to teach us. Scientists, philosophers, poets, and artists have all found inspiration in nature. What can we learn from nature, and how can we make use of that learning for the future? Please describe your ideas, including your own observations and experiences.
Essays may be submitted by anyone up to 25 years of age in one of the following age categories: a) Children (ages up to 14) or b) Youth (ages 15 - 25). Essays must be 700 words or less in English, French, Spanish or German, or 1600 characters or less in Japanese, excluding essay title and cover page. Deadline for submission is June 15, 2107.
Further information on guidelines and this contest »
06 March 2017


Entries Accepted for the 2017 Evolution Film Festival/Video Contest
Scientists and science educators of all stripes (students, postdocs, faculty, and full- or part-time science communicators) are invited to enter the Seventh Annual Evolution Video Competition, sponsored by the Duke Initiative for Science & Society, the Howard Hughes Medical Institute (HHMI), the Society for the Study of Evolution (SSE) and the BEACON Center for the Study of Evolution in Action.
To enter, please submit a video that explains a fun fact, key concept, compelling question, or exciting area of evolution research in THREE MINUTES OR LESS.
Entries may be related or unrelated to your own research, and should be suitable for use in a classroom (K-12, undergraduate, graduate - your choice). Videos should be both informative and entertaining. (In other words, no taped lectures or narrated Powerpoint presentations!) Animations, music videos, and mini- documentaries are all fair game.
The finalists will be screened at the 2017 Evolution meeting in Portland, OR. (You do not need to attend the conference in order to enter a video.)
First- and second-place winners will receive up to $1,000 and $500, respectively.
The deadline to submit your video(s) is Friday, June 2nd at 11:59 PM EDT.
Resources For Students
15 March 2017


Advanced Primatology Scholarship
This is a scholarship opportunity in conjunction with the Alliance for a Sustainable Amazon (ASA) that will support project proposals to investigate the demography, spatial ecology, and/or feeding ecology of brown titi monkeys (Callicebus brunneus). The exact nature of the proposed research project is open, but should be in line with the ASA's mission of promoting conservation. Please note that at this stage the trapping or handling of vertebrate species at our field site is not authorized; proposals, therefore, should be for observational research only.
The successful applicant will have the support of the ASA's academic faculty and staff, resident naturalists, and a number of volunteers and internship program participants that may serve as field assistants. The scholarship will cover food and lodging for a period of up to four months (15 May – 15 September, 2017) at Finca Las Piedras, the ASA's field site in the southeastern Peruvian Amazon. The scholarship does not cover the cost of travel to Puerto Maldonado, or the cost of medical/travel insurance.
Get more information and apply »
28 February 2017


SCB Announce a New Initiative to Support Field Research for Graduate Student Members!
Starting this year, the Society for Conservation Biology (SCB) will grant ten $1,000 research awards per annum to support travel, materials or equipment for graduate student members to help them conduct field research in conservation science.
The deadline to apply for an SCB Graduate Student Research Fellowship Award (GSRF) is April 1, 2017. E-mail SCB Awards Committee Chair, Carolyn Lundquist, with questions.
Please visit SCB Graduate Student Research Fellowship »
02 February 2017

Participate in the Biological and Ecological Sciences Congressional Visits Day
Scientists and graduate students who are interested in communicating the importance of federal investments in scientific research and education to lawmakers are invited to participate in the Biological and Ecological Sciences Coalition (BESC) Congressional Visits Day in Washington, DC.
This event is an opportunity for scientists to meet with their members of Congress to discuss the importance of federal funding for biological research and education. Event participants advocate for federal investments in biological sciences research, with a primary focus on the National Science Foundation, as well as other federal agencies. The deadline to sign up is March 1, 2017.